Description
Pro Divergence is my new divergence-based toolkit that will help you to spot lucrative opportunities in all kinds of markets.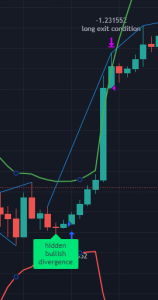 I've developed toolkits and strategies that use divergences for many years, e.g. AutoDivergence and CCIDivergence. Pro Divergence is my latest development and benefits from those yearlong experiences.
The main algorithm to detect divergences has changed from using linear regressions and moving averages to algorithmic trendline detection like I've been using in TD Lines.
This new approach supports the detection of regular divergences but also hidden divergences can be identified.
These rules for identifying divergences are pretty simple and straightforward. And they are also confusing at times. But that's what Pro Divergence is helping you with: trade based on customizable signals to identify all kinds of divergences.
You could either use the strategy settings of the toolkit to optimize the properties to show winning backtesting results. Or you use the signals as an extra confirmation to some other kind of signal/ strategy you are working with.
Summary of all current features

Oscillator: choose between CCI, Momentum, MACD, or RSI. All oscillators-settings are customizable.

RSI-filter: in some cases, the quality of the signals can be improved by an RSI filter, e.g. a bullish signal would only be valid if RSI is in the oversold area. Set the RSI period and the oversold/ overbought levels to your preferred values.

You can display all divergences on the chart to get an idea of the current price action. Or you can pick any combination of signals you would like to include in a backtest. Possible signals are: regular bullish divergence, regular bearish divergence, hidden bullish divergence, hidden bearish divergence

Exits: there are many ways to get exit signals – combinations of the below options are possible:

fixed profit targets/ stop losses based on ticks

Exit when momentum reverses

Exit when price touches the opposite Bollinger Band (e.g. a long position will be closed when price touches the upper Bollinger Band). The settings for the Bollinger Bands are customizable.

Entry: you can choose only to enter a trade if momentum is going in the same direction as the direction of your trade (e.g. only go long if momentum is rising)

time and date filer

Do a backtest only in a given time range (maybe you're not interested in the whole range of historical data when trading in a higher timeframe. Or you would like to do some kind of walk forward analysis)

Only trade during special times of a day, e.g. only trade during the first hours of a trading session
Since this strategy is making heavy use of math and technical indicators, it is not tied to a certain asset class or timeframe. It was tested successfully on a large number of financial instruments like stocks, crypto, forex, and others.
Here's Pro Divergence @ TradingView.
Find below the backtesting results of BTCUSD (coinbase) on the 1H timeframe – pretty impressive, isn't it?