Description
Automatic Trendlines

 – 

this will save you lots of time

, using proven concepts by implementing TD Points level 1 – 3.
Signals on qualified Trendline-Breaks – 

this will make your signals super-reliable

, following strict rules/ multiple conditions
Different types/combinations of Stop Loss, Trailing Stops and Take Profit settings

TP/SL based on R:R (1:1 to 1:10)
TP/SL based on the Three Day Trailing Stop Rule (3DTSR) from Peter Brandt
Combinations of both, R:R and 3DTSR

RSI Filter

 – 

this will make your signals even more reliable

 because the filter adds an extra confirmation to the signals.

Alert Conditions

 – Just set up your alerts and then there is no need to wait in front of your computer. 

Never miss a profitable trading opportunity

.
Create your personal 

Crypto-Trading-Bot

 

with 

autoview

and the TD Lines Study
What's included:
TD Lines Study

 (generate signals)

TD Lines Strategy

 (backtest your settings)
BONUS: A 

"free" version of autoview

. License-checks are disabled – all Crypto-Exchanges can be used – unlimited!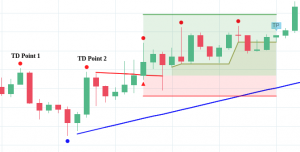 The setup shown here is: TD Points level 3, Taking Profit via R:R 1:3, combined with 3DTSR trailing Stops.
The red Trendline (it is a TD Supply Line) is automatically drawn via continuing the invisible Line that connects TD Points 1 and 2 (these are Level 3 TD Supply Points).
At the red Triangle, a qualified Trendline-Break occurs and a Buy-Signal is fired.
The red and green areas visualize the TP and SL Levels. The olive area appears, when the Trailing Stop Rules kick-in.

The Screenshot to the Right shows the backtesting Results of XAUUSD on a 1H Chart. The Drawdown seems to be too high, but the Net-Profit is amazing!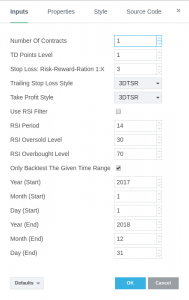 This is the Properties Dialog, showing the Settings for the above backtesting example.