Description
Reliable Alerts on Trend Reversals. Get my most popular Divergence indicator now!
Did you ever wanted to have a reliable indicator to spot trend reversals?
Explore divergences to identify profitable trade opportunities.
Get Email-Alerts with your customized buy and sell signals, 
or use autoview to trigger the trades.
Use the Indicator Package with Forex, Cryptocurrencies, Commodities and Stocks.
Features:
Identify Price vs. Momentum, CCI or MACD Divergences – this will save you lots of time, because you don't need to clutter your chart with hand-made drawings to show you divergences.
RSI Filter – this will make your signals even more reliable because the filter adds an extra confirmation to the signals.
Alert Conditions – Just set up your alerts and then there is no need to wait in front of your computer. Never miss a profitable trading opportunity.
Create your personal Crypto-Trading-Bot with autoview and the AutoDivergence Study
New: all my divergence-based studies and strategies have been merged into this Product
New: optional "classic visualization" that fits best for manual Trades and technical Analysis
Whats included:


Backtesting results: XBTUSD, Bitmex, 15min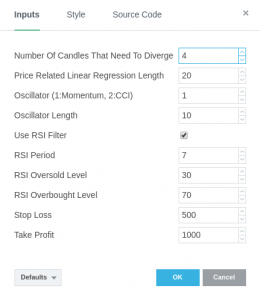 Properties Dialog



AutoDivergence Study in Action / Proof of accuracy: